About
For more stories set in the Twinmaker universe, click here. Also, if you read on wattpad, I have stories there too (my handle is "adelaidesean", as it is in most places).
To subscribe to my newsletter, click here.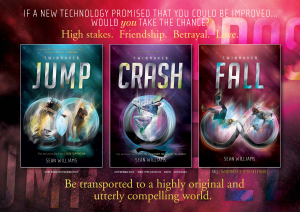 My name is Sean Williams. Twinmaker is the first in a new YA SF series that takes my love affair with the matter transmitter to a whole new level (see blurb below and reviews here). You can find a trio of related short stories over at Lightspeed, and there are many others about the place too, if you want to explore the world and the characters even further, including one in the Australian edition (which is called Jump,  fyi). Crashland, the sequel to Twinmaker, is called Crash in Australia and also features a bonus short story. I've just finished writing Hollowgirl (aka Fall), the final book in the series, which will come out in October or November this year, depending on your territory.
I'm a #1 New York Times bestselling author who lives in Adelaide, South Australia, just up the road from a chocolate factory. I've written some novels–forty-one at last count–including the Philip K. Dick Award-nominated Saturn Returns, several Star Wars books and the Troubletwisters series with Garth Nix.
Twinmakerbooks.com exists to link to reviews, interviews, guest posts, contests, deleted scenes and so on and so forth, plus to provide a home for exclusive material you won't see anywhere else. You can find information about where to buy Twinmaker here (UK/Éire) or here (Australia/NZ). To buy a copy in the US nor preorder Crashland, take your pick from Amazon, Barnes & Noble, IndieBound, Powell's or the bookseller of your choice. You can read an excerpt via the "browse inside" link on the book page at Epic Reads. It is available electronically and as an audio book. For more general ramblings by me, including photos of the green tree frogs I was babysitting recently, check out seanwilliams.com and facebook.com/seanwilliamsauthor.
Oh, and here's a trailer, of sorts:
You can be improved. . . .
Can you really change your body just by carrying around a coded note? Sure—the advanced technology of a d-mat booth will transport you anywhere instantly, but can it also make you taller, stronger, more beautiful? Clair is pretty sure the offer is too good to be true. But her best friend, Libby, is determined to give it a try, longing for a new, improved version of herself.
What starts as Libby's dream turns into Clair's nightmare when Libby falls foul of a deadly trap. With the help of Jesse, the school freak, and a mysterious—but powerful—stranger called Q, Clair's attempt to protect Libby leads her to an unimagined world of conspiracies and cover-ups. Soon her own life is at risk, and Clair is chased across the world in a desperate race against time.
Action and danger fuel Sean Williams's near-future tale of technology, identity, and the lengths one girl will go to in order to save her best friend.